This blog is part of a series on Teams. For more articles, check back often
Written: 21/02/2021 | Updated: 15/03/2021
The last blog I did was on Bulletins. My good friend Vesku Nopanen responded in kind with Milestones. So I thought I would just continue the conversation with Employee Ideas. Like Bulletins and Milestones, Employee Ideas is an app in the Teams Store which is built upon Dataverse for Teams. It's part of a new wave of Power Apps templates which can be deployed and then extended giving users a leg up as opposed to having to create something from scratch. So what's Employee Ideas all about? Well, the description in the screenshot below outlines it pretty well: it's about creating and managing and voting up ideas in the team. Ideas for improvement. Ideas for change. Ideas for how to be more inclusive. For me this is good for two reasons. The first is that I often have ideas but have no central repository to put them. Me being me I typically leave them in notepad or on an open excel, then I'd lose them or they would be buried in notes where I would never find them. It's an ambition of mine that I must get to a better place then ideas either being in my OneDrive or in my head because, to be brutally honest I am often forgetful with the level of work I usually have on. Maybe it's just my age. Secondly, I love the prospect that this could potentially be used similar to Uservoice, particularly when it comes to crowdsourcing innovations or improvement actions. Yes, Microsoft is moving away from Uservoice but let's not forget how successful it has been over the years. Now, as far as I know – but I could very well be wrong about this the Employee Ideas app came out sometime around November/December 2020. Bulletins and Milestones are the newer apps, but these have all been released close enough together to be considered in the same wave. Most I talk to don't realise that they are even there, so they are probably going to get discovered and used together. Let's get hands on with this one.
This blog will cover
How to setup Employee Ideas
Deployment notes
How to share Employee Ideas with colleagues inside and outside the Team
Can Employee Ideas be added as a Personal App to the App Rail like Bulletins?
Creating Campaigns and Ideas
Deleting an Idea
Deleting a Campaign
Editing and Duplicating a Campaign
How to remove Employee Ideas
How to rename Employee Ideas
How to extend Employee Ideas
Concluding thoughts
Pre-requisites
Teams licence/Power Apps licence (In an Office/Microsoft 365 Subscription)
App Permissions to install apps in the Team (and Employee Ideas) to be installable via the Teams Admin Centre)
HOW TO SETUP EMPLOYEE IDEAS
1.) I have setup my Team ready to go. In the channel I select Add (+)
2.) Search for and select Employee Ideas
3.) Select Add
4.) Select Save
5.) Installation will then occur. This may take some time – however you can navigate away and do other things in Teams whilst it installed and you will be notified in the activity feed once installation has completed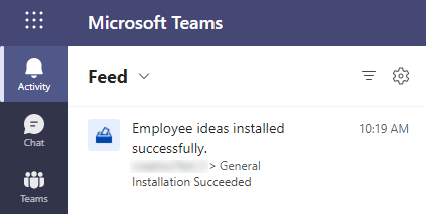 6.) Once installation has completed, select the channel notifications will be posted to and then select Let's go
7.) Employee Ideas will now be deployed as two Power apps as represented by two tabs – Ideas (the app which users will use) and Manage Ideas (the app for managing Employee Ideas)
DEPLOYMENT NOTES
A few observations about this deployment
Employee Ideas can only be deployed as tabs within Teams, it cannot be deployed as a personal app – whilst it can be shared there is currently limitations about using it as a personal app – see section below
Deploying Bulletins into another team will deploy a second instance of the app in a second environment – however the app can be shared with others outside the Team and used as a personal app – see section below
You cannot add Employee Ideas into Private Channels currently. It errors.
When deploying, both the Ideas tab and the Manage Ideas tab are visible to all members of the Team. There is no ability to restrict this to show just the bulletins tab (and not to management tab) to other members of the team. Two workarounds here are 1.) Have just the Ideas tab in a much used channel (removing the manage ideas tab) or 2.) Have Employee Ideas app with both tabs in a Team where all users are admins and then share it with others who can access it outside the Team as a personal app
When you deploy the app an environment is created at https://admin.powerplatform.microsoft.com. This is where the two Power Apps are housed – in Dataverse for Teams

HOW TO SHARE EMPLOYEE IDEAS WITH COLLEAGUES INSIDE AND OUTSIDE THE TEAM
By default, no one will have permissions to use Employee Ideas apart from the person who has deployed it. We need to therefore share it with the Team, or share it with others outside of the Team. For example, any other Team member will see this
1.) Let's start with those inside the Team. Select Power Apps within Teams – either through the app rail or via a Tab
3.) Select Build, then the Environment Employee Ideas is in (Name of the Team), then select Share with colleagues (top right)
4.) Enter the Microsoft 365 Group linked to the Team you deployed the app in, use the sliders to share Ideas or both Ideas and Manage Ideas and then select Save
5.) Other members in the Team can now access and use Employee Ideas
6.) Now lets move on to two other scenarios. People outside the Team, or Simply a group of administrators who will manage the bulletins app who are not in the Team. In the M365 Admin Centre add a Security Group for Bulletins with members who you want to use the app
7.) Select Power Apps within Teams – either through the app rail or via a Tab
8.) Select Build, then the Environment Bulletins is in (Name of the Team), then select Share with colleagues (top right)
9.) Enter the Security Group created, use the sliders to share Ideas or Manage Ideas or both and then select Save
10.) The green bar confirms those in the security group can now use Bulletins
However they will not be able to use the app until you assign the correct Table permissions which are set to none by default. In order to do that, see this blog how to apply table permissions to the security group
CAN EMPLOYEE IDEAS BE ADDED AS A PERSONAL APP TO THE APP RAIL LIKE BULLETINS?
Anyone with permissions on the Ideas app can open it as a personal app once it has been deployed – people within the Team or outside the Team across the organisation. Important Note: this only applies to the Ideas user app not the Manage Ideas app which errors because it needs channel integration for channel notifications based on a Flow
1.) Select Apps (The App Store) on the app rail
2.) Select Built for (Your Organisation)
3.) Select the Ideas app not the Manage Ideas App
4.) Select Add
5.) Ideas is now added as a personal app to the app rail and can be pinned like other personal apps
CREATING CAMPAIGNS AND IDEAS
This is what the owner of Employee Ideas sees when they first deploy – both Manage Ideas and Ideas tabs which are the same except Manage Ideas has added management functionality, such as the ability to create campaigns. As shown in the image below Ideas are organised into Campaigns which are essentially containers for ideas which run for a period of time
1.) Let's start by creating a campaign which only the owner, or those given permission over the Manage Ideas app can do. In Manage Ideas select Add campaign
2.) Add
Campaign Name (What the ideas are for)
Campaign Description (What the campaign is designed to do I.e. outcome)
Date (How long the campaign is open for – looks like the maximum is currently around 2 years)
Cover Image (there are prepopulated ones but you can upload your own
In addition to the information above you can also add or remove the prepopulated Idea Questions which responders would need to answer when submitting an Idea. Ideas can be completely blue sky, but the majority of the time we ask questions such as 'What Impact will it make?' 'How easy will it be to implement?' so we can assess and rate those ideas. These questions can be added via Add Question or removed via the Red Bin inline. The questions can also be ordered and prioritised. You can have at least 20 questions (I didn't test adding any more) and the answers can be by a 1-5 rating or text for more intricate and granular answers
Once all this is done, select whether the campaign is posted to the channel (via slider) then Add Campaign
3.) The campaign has now been added. Select Return to the Campaign List
4.) If the campaign has started you can now begin to submit ideas. Only active campaigns will show on the main page
5.) Let's now add an idea which can be done by anyone either through the Manage Ideas app or the Ideas app. Click on the campaign and then select Submit an Idea at the top right
6.) Add
Title of the Idea
Description of the Idea
Answer the Idea Questions (as set by the campaign)
Add a picture (if required)
Add attachment (if required)
In this example, here the idea for the New Remote Teaching Ideas Campaign is to invest in a Blue Yeti X to use with Microsoft Teams. The attachment covers technical specs
Once all this is done, select whether the idea is posted to the channel (via slider) then Submit Idea. Be very careful with this and try to articulate as much as possible as you cannot edit the idea afterwards – you would need to delete and re-add it (see below)
6.) Select Return to Ideas List
7.) The idea is now in the Campaign
8.) Others can now vote up on the idea
9.) Here is what the posts for the campaign and the idea look like in the channel
DELETING AN IDEA
From time to time, you may need to delete an idea – more than likely because you forgot to add something because a limitation of the employee ideas app is that you can't edit ideas. Once they are added they are set in stone – so we can only delete and recreate. The delete functionality is only possible in Manage Ideas not in Ideas
1.) From the main page, select the campaign
2.) Select the idea
3.) Select More Actions (…) on the top right then select Delete
4.) Tick the box I Understand and then select Delete
DELETING A CAMPAIGN
If a campaign is no longer necessary, or expired and we have our ideas we may need to delete it. This can only be done in Manage Ideas
1.) From the main page or the campaign page, select the campaign
2.) Select Edit
3.) Select Delete
4.) Tick I Understand and then select Delete
EDITING AND DUPLICATING THE CAMPAIGN
We may want to edit details about the campaign – such as how long it runs for, it's description, the number of idea questions we have, or we may want to duplicate the campaign to use for another in the future, or from an expired campaign we want to re-run. This can only be done from the Manage Ideas app
1.) From the main page or the campaign page, select the campaign
2.) Select Edit
3.) Here you can edit such details as the title, the description, the image or the idea questions. Amend as required
4.) To duplicate the campaign select Duplicate
5.) Amend the data and select Add Campaign which adds a fresh campaign without ideas. Note in this scenario a new cover image will need to be provided
RESTRICTING CAMPAIGN CREATION
Now that the Employee Ideas App is two apps, it is a lot easier to restrict campaign creation because you can give those who need to create campaigns inside and outside the team permissions access to the Manage Ideas app. Those who need to simply submit ideas you can limit to the Ideas app. However, if you simply intend to use Employee Ideas as a singular app within the Team you have deployed it in, then you can use Manage Ideas and then use the in-built controls to limit the ability to add campaigns and restrict them to Teams Owners whilst simultaneously using the Ideas app for users outside of the team. Advantages of this is a singular app within the team and in this way, it keeps members focused on submitting ideas and the Owners focused on setting up campaigns. However, the major disadvantages here is that in this method ideas can be deleted by anyone and of course, everyone will need to use the other Ideas app anyway if they want to use it as a personal app
1.) As a Team Owner, on the Manage Ideas page, select the Cog on the top right
2.) Turn Owner Restrictions on (Slider) and than select Save
3.) Regular members will no longer be able to see the Add Campaign button on the main page
HOW TO REMOVE EMPLOYEE IDEAS
1.) Like Bulletins, you can't simply remove Employee Ideas by simply removing the Tab
2.) You can't remove it from the App Store
3.) Select Power Apps from the App Rail, and then Build
4.) Select the Team, then Installed Apps, then More Options (…) on Employee Ideas, then Delete
RENAMING BULLETINS
We may want to distinguish this app from others, especially if we plan to deploy multiple instances of the Employee Ideas app across our organisation
1.) Select Power Apps within Teams – either through the app rail or via a Tab
2.) Select Build then Installed apps and then click on the name of the app. This will open it in Power App Studio
3.) Click on the name of the app and rename
4.) Select Publish to Teams
5.) Add the channels in the Team where new tabs should be and select Save and close
6.) Clean up any old Tabs in the Team
7.) The app is renamed throughout Teams including in the App Store
HOW TO EXTEND EMPLOYEE IDEAS
1.) Select Power Apps within Teams – either through the app rail or via a Tab
2.) You may see it within Recent Apps
3.) If not select Build
4.) Select Installed Apps and then select the Power App to customise it
5.) Power Apps Studio will open within Teams
CONCLUDING THOUGHTS
Our job here is done
I love this app – what it can do and it's potential. I think it's straightforward, easy to use, easy to manage. I am 100% going to use it in my own organisation and see how we get on. However, there is some functionality I am looking forward to seeing in future releases
The ability to edit ideas. You can't do this today: once they are submitted you can't edit them. Whilst you can delete them and recreate there will be cases that people want to go back and amend if they think they have done something wrong, or there is something more to add
The limit of two years for a campaign could be extended to 5 for example
In this 1.0.1 version the introduction of two apps instead of one has meant that it can be easily shared outside the team and can also prevent the deletion of ideas since you can only delete ideas in Manage Ideas as opposed to Ideas. Attachments have also been fixed so a massive well done to the team. Today, we can see a road to uservoice. Easy to add campaigns, easy to add ideas, voting up on those ideas. Adding statuses to ideas (I.e. working on it, backlog) would be awesome and then potentially linking that to Tasks in Teams would be more awesome still. Having a Uservoice app inside your own Team, or your own organisation, would be very very powerful. So overall, I think this is a great start. This could very well become one of the best apps within Teams